TERELLE PRYOR IS SHAKING THINGS UP IN THE EAST BAY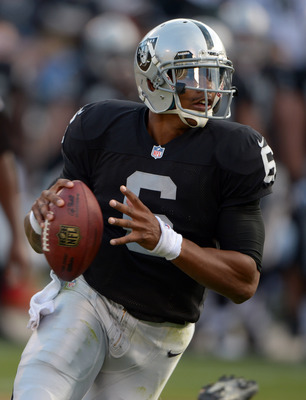 Kirby Lee-US PRESSWIRE
Oakland has a new favorite QB on the Roster ready to step up into the game any moment he is called upon. I want to see Terelle Pryor and Carson Palmer work as together in a duo for the Raiders. It will bring pro-style gamble as well, but what if all teams started doing this. Imagine how many great plays we aren't seeing because of player fatigue. Running Backs go in and out of the game frequently, so why don't teams utilize every position in the same fashion.
I Hope to see a lot of Terelle Pryor in the flat catching screen passes, that he then launches downfield to DHB or Street-Rod. Or in some other innovative offensive scheme that incorporates both in the backfield. Because these two have completely different sets of skills. CP3 has the sound mechanics, the precise accuracy, and the will to win. Many think the last one can't be taught, and I agree. TP6 has the will to win that some may say it's enough will to need no skill.
Dennis, whatever you decide to do with this team will be fine, just know that this group can dominate if used in the correct manner. Everything is where it is, at this exact moment, for a specific reason. And this group is here to wow NFL Fans for the first time since the "greatest show on turf."
Oh Zee - Gregory Pitsch