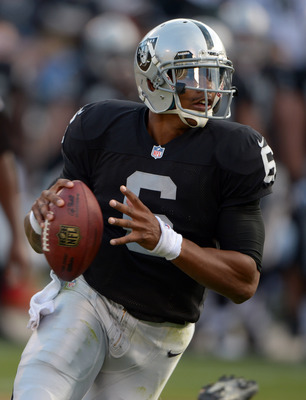 Kirby Lee-US PRESSWIRE
Studs: Terrelle Pryor/Juron Criner, Oakland Raiders
By Jesse Reed (Featured Columnist)
Terrelle Pryor was the best quarterback on the field when the Oakland Raiders and Detroit Lions went toe-to-toe on Saturday night.
Yes, you read that right.
In a game when Matthew Stafford went down with another injury (apparently a minor one, according to ESPN.com's Kevin Seifert) and Carson Palmer stunk up the joint (more on that later), Pryor gave the fans in the Black Hole something to cheer about.
He only threw the ball five times, completing three of them, for a whopping 137 yards. Out of those three completions, two of them went for touchdowns. One was 39 yards and the other a 76-yard bomb—both of which were caught by Juron Criner in the fourth quarter.
Criner only caught those two passes, but his work was more than enough to be worthy of a spot on tonight's "studs" list.
I suggest every RAIDERS fan who loves to tailgate, the keg2go is great.